White Appliances
Home appliances have revolutionized the way we live by extending convenience into every area of our lives, but plastic makes them affordable, lasts longer and is more versatile. Log Machine provides a full range of high-speed forming solutions that make home appliance production more efficient and of better quality.
Injection Molding Solutions for White Goods
Today, plastics are so pervasive in everyday life that ordinary people take them for granted. So much so that many people are surprised to find that plastic is used so widely. Home appliances have revolutionized the way we live by extending convenience to every area of ​​our lives, but plastics make them affordable, last longer and more versatile. Without injection molding technology and high-quality injection molding machine, the production of many of these parts would not be as easy or cost-effective. Even a quick glance at appliances from refrigerators to dishwashers reveals a plethora of injection-molded parts.
Which Appliances Use the Injection Molding Process?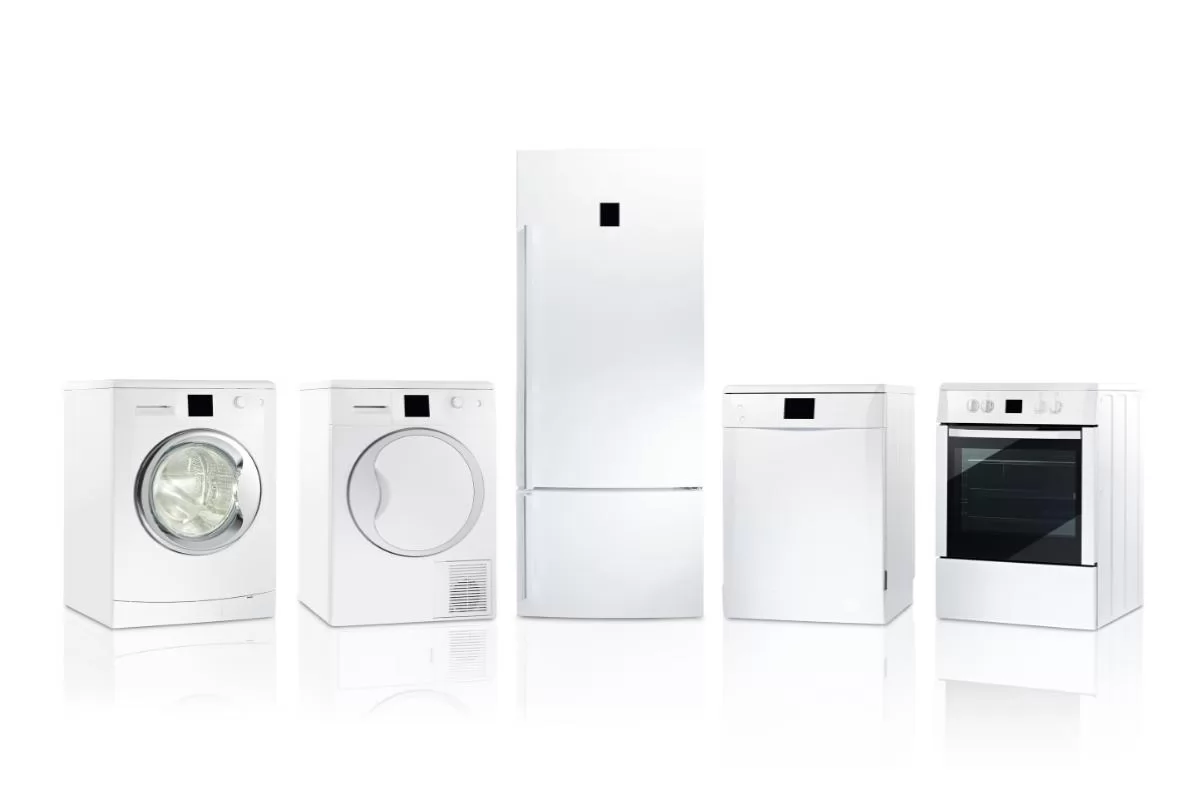 It's easy to see why appliance manufacturers would tend to use high-volume, highly reproducible processes to make their plastic parts - but what are those parts? Let's look at some of the most common examples you might find:
Refrigerator components.

Indoor shelving units and sliding drawer frames for condiments and jars are likely to use injection molding. Refrigerator and freezer door handles also come from molds, as do many components used in ice makers, such as the plastic auger that dispenses ice on demand.

Dishwasher components.

Much of the interior of a modern dishwasher comes from injection molding, including the silverware container, the dishwasher rack itself, the water-spray wash arms, and even the door or hatch of the detergent dispenser.

Kitchen gadgets.

The casing of the toaster may come entirely from the plastic mold, as will the casing of the blender and the blender container itself. Plastic food storage containers also use molding.
More furniture includes ovens, refrigerators, freezers, stoves, and even small appliances like coffee makers and ovens.
These examples are just a scratch on the surface of what is possible when working with a plastics company near you to design and develop electrical components. With faster turnaround times, better product quality and more versatility, a wide range of outcomes can be achieved.
Advantages of Injection Molding for White Goods
Why are so many appliance manufacturers turning to injection molding companies to play the role of supplying plastic parts? Injection molding has been one of the main means of producing plastic parts for more than half a century, based on a process that uses molten plastic that is forced into a high-precision mold and cooled under pressure. Highly versatile and able to offer several advantages over other manufacturing processes, there are many reasons why appliances use injection molded parts:
High-pressure injection allows plastic to enter even the deepest depths of the mold, enabling complex shapes and designs, minimizing the need for additional post-molding processing.

Molding produces large numbers of parts at very fast speeds. Although it may take some time to design and finalize each mold, the manufacturing process after that can be very quick. Once you master mold design and use, you can use them indefinitely.

Injection molding makes it easy to add fillers to change the properties of plastics. Inserts and add-ons within the mold allow for more complex processes such as overmolding.
Durability improvements

Injection molding revolutionized the appliance industry by enabling manufacturers to order custom parts based on the unique needs of a project. The more durable a product is and the longer its lifespan, the more valuable it is to consumers. Injection molding enables manufacturers to specify their own needs, with the support of LOG Machine's injection molding technology, to perfectly solve your needs.

Better visual appeal

Large and small appliances are an important part of home improvement, so it's important that the materials used in their designs are both durable and visually appealing. Injection molding offers manufacturers a wide range of aesthetic options for washing machines and dryers, dishwashers, ovens, refrigerators, freezers, stoves, and even small appliances such as coffee makers and ovens. This helps brands build a strong reputation when the product looks great in consumers' homes and exceeds their expectations in terms of quality. LOG Machine supports and strives to help our customers grow.

More affordable manufacturing

Appliance injection molding has forever changed appliance manufacturing in terms of product affordability. Manufacturers are constantly looking for ways to reduce costs in order to pass the savings on to consumers and stay competitive. Injection molding is associated with fewer design errors, which means that production-related expenses are automatically reduced. There are fewer reorganizations involved, and there is an opportunity for corrections long before the manufacturing process begins. Finally, our customers appreciate our consistency, where each component is as high quality as the last.
LOG Machine Technical Advantages
Reliable quality

Without our domestic helpers big and small, life would be only half the fun. Formed with LOG Machine technology, white goods such as air conditioners and washing machines can be produced, setting new standards in terms of surface finish and functional integration.

Optimize costs

Flexible, energy-efficient injection molding machines for all types of household appliances will provide you with huge cost benefits.

Groundbreaking design

Maximum ability to provide solutions with the latest technology and competent partners

Tailored Solutions

Complete production solutions from small parts to large household appliances

Maximum output

Extremely short cycle times and stable processes for very large batches

Low "life cycle cost"

Injection molding machines for home appliances and white goods with high-quality, durable components
At LOG Machine, we support customers in many industries, including the home appliance industry. With a robust and highly scalable solution, as a leading injection molding machine manufacturer in China, we are ready to put projects into practice. Contact us today for a free quote on your project.
Speak To One of Our Experts
Send Your Inquiry
*We respect your confidentiality and all information are protected.